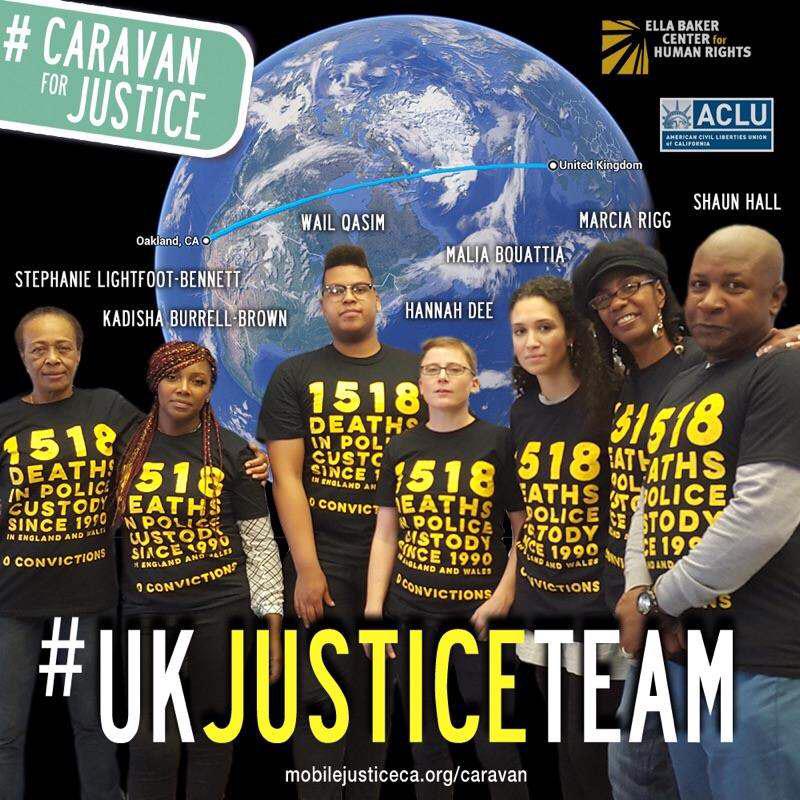 The #CaravanForJustice will mobilize low-income communities of color against law enforcement violence, train them in how to respond when incidents of brutality occur, and highlight the stories and strength of victims and survivors of state violence. To create prosperous, thriving communities, we must acknowledge how our countries' long history of criminalizing and incarcerating communities of color has led us to this state of emergency, and reinvest in opportunities for those very communities.
Need for Rapid Response to Law Enforcement Violence:
We are in a state of emergency right now with law enforcement violence increasing at an alarming rate against black and brown communities. In the past year, 729 people have been killed by US police and 27 were black and unarmed.
Every 28 hours, a black person is killed by law enforcement, security guards, and vigilantes.
Justice Teams will be local rapid response networks, building infrastructure to support victims and survivors of law enforcement violence, and teaching communities how to effectively respond when police brutality occurs.
There are efforts to combat police violence at the policy level, such as body camera legislation and policies aimed at demilitarizing police. However, communities need to be empowered to take action themselves when state violence occurs.
People who have been directly impacted by law enforcement violence should feel equipped with the knowledge and power to make demands, lead campaigns, and take action to prevent police brutality in their communities.
When police violence occurs in communities, too often, the response of law enforcement is to send in the National Guard or further militarize the police. We need to equip communities to respond and demand support for the people who have suffered abuse at the hands of law enforcement.
Global Issue and Cross-Racial Issue:
Police violence impacts communities across the globe and must not be seen as a disparate issue from country to country. While the details of each instance of brutality may differ, the common themes remain the same: people in power demonize already vulnerable community members to justify their unlawful use of force.
The similarities between the stories of Mark Duggan, Sean Rigg, Leon Patterson, and Kingley Burrell and those of Mike Brown, Ezell Ford, Eric Garner, Sandra Bland, and too many other victims of law enforcement violence in the U.S. make clear that this is a global problem.
Across the world, police criminalize poverty and those with mental health problems—we must change this punishment first approach to every social problem.
Victims and survivors of state violence must connect with each other to learn how to respond effectively and eradicate this problem.
Police violence is a multi-racial problem, and one that affects both black and brown communities, especially in California.
In California, 126 people have been killed by police this year, and 66 come from black and brown communities.
Truth and Reinvestment:
To eradicate state violence, both on the streets and inside of jails, we need to move resources away from policing and punishment and toward reinvestment in communities, especially low-income communities of color.
As we work to end mass incarceration and state violence, we must grapple with this country's long history of organized violence and systemic oppression of people of color.
We cannot overcome racial injustices without an institutional examination of this country's long history of racism and oppression, which has involved forced labor, segregation, disparate opportunity, and organized state violence against black and brown people.
We must acknowledge how the actions of racist institutions, both past and present, have led us to a society in which people of color are brutalized, criminalized, and incarcerated.
This punishment regime has penetrated every aspect of society – from our communities and schools where children first come into contact with police, to hospitals where women are being drug tested and arrested in the delivery room, to the barriers to housing, employment, education, and civic engagement that formerly incarcerated people must face after they have finished serving their sentences.
It is time to break our addition to policing and punishment.
We must demand accountability for every stolen life while working to transform our society into one in which accountability is not synonymous with punishment. 
Community safety:
Policing has never been about public safety, it is rooted in social control.
To understand modern-day policing, we must understand the origins of police—going back to slave patrols where white men policed the lives of enslaved Africans. Their purpose was to instill fear in enslaved African populations by controlling their ability to move.
The problem is not one of spontaneous rage from individual officers, but rather a culture and training of law enforcement that further marginalizes, criminalizes, and dehumanizes communities that do not fit in the current model of power that exists in this country.
True community safety will be achieved by reinvesting resources in employment, healthcare, education, and restorative justice initiatives.